A guide for setting up and starting a new game:
updated:21MAR19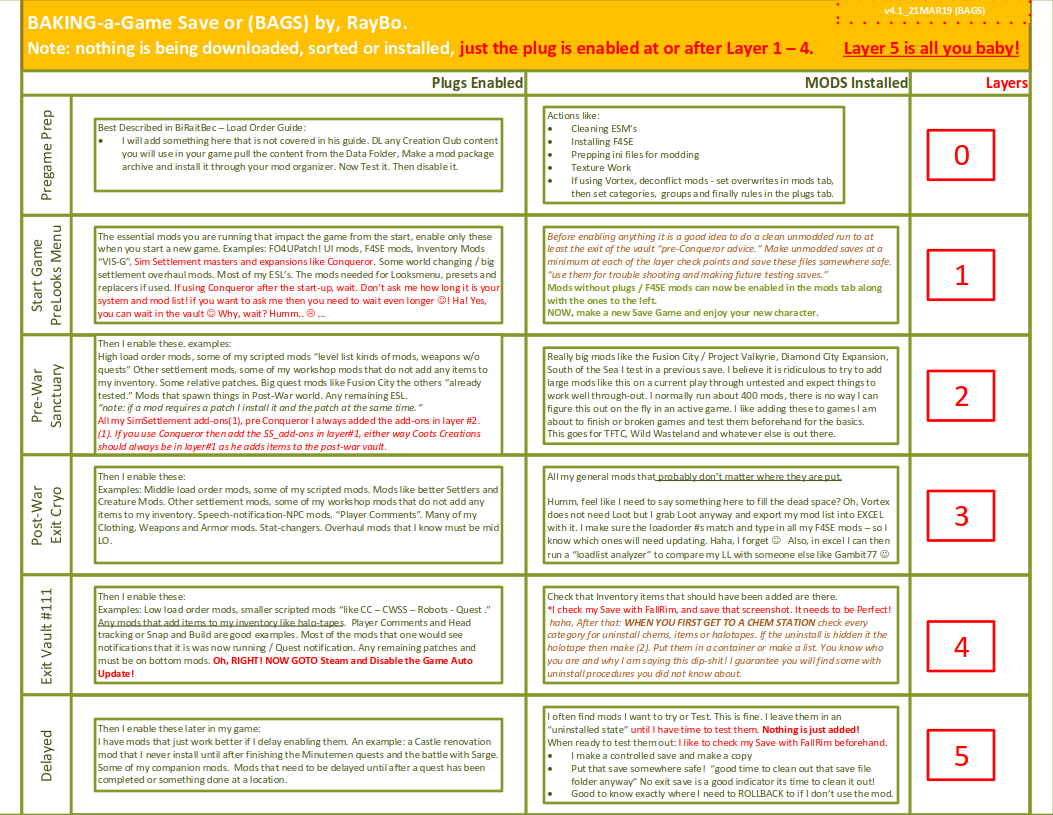 I had been tossing this around and was encouraged to post it. It is not a load order and not intended to suggest mods. It is a checklist of sorts, a guide for layering your save file "baking" and my procedure for setting up and starting a new Fallout 4 game. It has been something that started as a list on a piece of paper and evolved into a word doc, then excel, and now this. With all the hints, practices and suggestions that I had been stealing from many users and sources so I could remember them.

I am sure many of you are doing similar things, so the target isn't advanced users. It is simply me trying to help the newer folks "like me" have a long, successful and enjoyable game. It isn't intended to be the definitive answer to anything. It is intended to be preventive, help, suggest and guide folks with good modding protocol and maybe answer a few questions that might have been awkward to ask in other forums.

What I hope this does:

- give a user new to modding a game some good suggestions
- in a logical way help spread out all the scripts running at or before the vault exit "there are mods that can help with this also."
- help you get the looksmenu stage without the game locking up
- help with items added to inventory
- help with leveled list items spawning with correct tags "mod-dependent"
- help users understand mod discipline
- set-up your game to maybe be more stable overall
- clear save points
- emphasize testing, responsibility and good modded game procedures
- help a user not to forget something
It is intended to be an ounce of prevention to avoid the pound of hurt.

If folks like it, then I might make a series of it? Maybe call it BaGS II and go into more detail and make a few videos and such.
For Game Prep at least look at steps 0-3,
Fallout 4 Mod List and Load Order Guide (BiRaitBec Modlist) https://www.nexusmods.com/fallout4/mods/23556
PDF, attached of the above Guide picture
Last edited: