Well-Known Member
City Planner (S3)
There's an option in the settings to turn off junk storage defense requirements. Although it has to be done before the junk containers are built
You are totally awesome, I can work with that.
(I just woke up to a mosquito after a couple of hours sleep, I got it. did a quick check on the phone and saw your reply)
This makes a much easier fix!
I will redo the junk storage for lower levels without defense requirements, but have some in level 2 and 3 that do require defense.
Will add in a PRA's "Papers please!" internal martial plot for Level 2 & 3 in front of the statue, right opposite the entrance tunnel, and swap the single residential Herbalist Haven for the two person Sibling Shack (which was in one of my earlier versions). Maybe a few additional turrets.
Did a quick mock-up of the martial plot - too excited before going back to sleep - which is where I am going now.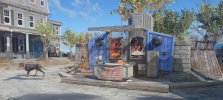 (It's a dynamic flag on front of the desk - the fresh out of the vault character can't select a minuteman one)