I have thought of writing down my notes in this post, with the intention of reminding for me. I don't really know how to report.
Note 1: These three elements are repeated in the same section, they can be removed from WRK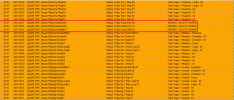 Note 2
Note 3

Note 4: Here there are only flags and totems, it is strange to call it "Graffiti"

Note 5: SS2.esm These two look like normal Minutemen flags in WRK

Note 6: SS2.esm These one look like normal Minutemen flags in WRK

Note 7: SS2.esm These one look like normal Minutemen flags in WRK

Note 8:

Noite9:

Last edited: