A Big Thank you to my friend
@woodfuzzy
for his help
and to
@NikitaDarkstar
for adding further help

(1) Memory
Memory is an important part of any computer, but more so for us games. Understanding the technical nature of Ram is not a necessity, simple maths with do.
This is Fallout 4 minimum requirements:
CPU: Intel Core i5-2300 2.8 GHz/AMD Phenom II X4 945 3.0 GHz or equivalent
RAM: 8 GB
OS: Windows 7/8/10 (64-bit OS required)
VIDEO CARD: NVIDIA GTX 550 Ti 2GB/AMD Radeon HD 7870 2GB or equivalent
Lets focus on the 8Gb of memory required.
It is possible to run Fallout 4 on 4GB of memory, as long as everything is turned to low or some settings to off, but there is no guarantee of stability.
Lets take our test bed
CPU: AMD Phenom II X4 945 CPU
RAM: 8 GB
OS: Windows10
VIDEO CARD: AMD Radeon HD 7870 2GB
So our game runs fine, well mostly and on a test we find the game to be running around 4GB of Ram spiking to 7GB on rare occasions. However the game stutters and sometimes freezes or CTD's and yet we haven't reached even close to its 8GB of ram, or have we?
Every program and background process that runs on your Laptop or Desktop uses memory, by pressing ALT/TAB/DELETE we can bring up the Task Manager and by clicking at the top of the memory section, we can bring up all the programs currently using the most or the least.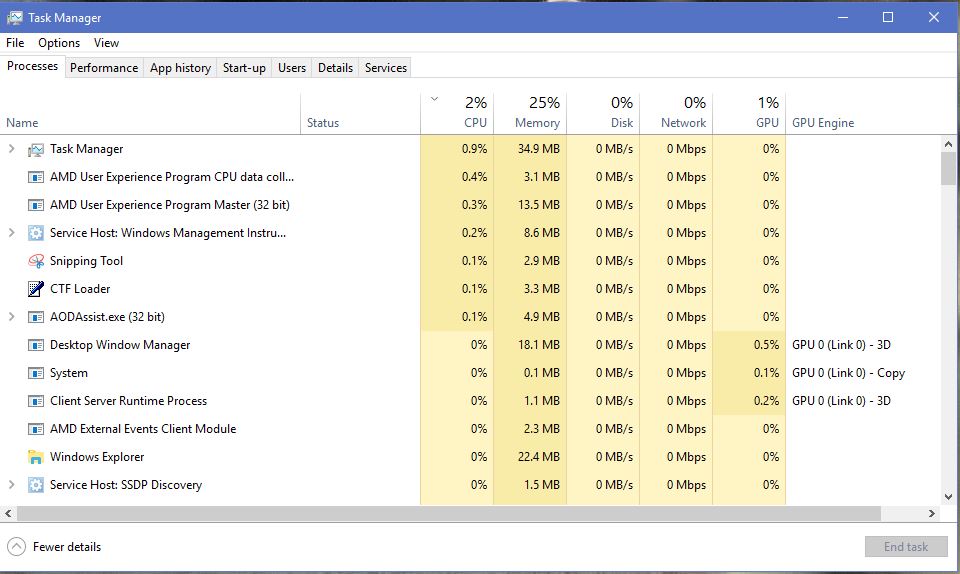 The process tab above clearly shows that I am using 25% of the total memory on processes. (I waited 5 minutes to allow the system to settle before taking this picture)
If we base my system as having a total of 8GB of RAM, then a simple calculation tells us I have 6GB free. Looking above, the minimum requirements for Fallout 4 is 8GB

(2) Understanding Startup
Programs can startup automatically in Windows for a number of reasons, some are understandably important, e.g. Antivirus, but some are not necessary. Some only startup to reduce our access time to that program or to provide extra functionallity that we may not need most of the time, these are resource stealers or huggers. An example is my usb bluetooth, once installed, 7 seperate processes run in the background, in total it only uses 1.5% of my memory, not a huge amount, but when I begin to add all of those other tiny resourse, it stops being so tiny. Just because a program has placed itself in Startup or services doesn't mean it has the right to be there or that having it running in the background will gain you some kind of advantage. As well as reducing overal memory usage, it is worth noting that a reduction in your computer startup time can often be achieved


(3) Task Manager
One way to gain that extra ram is to look at your Task Manager (
Crtl+Shft+Esc
) or (
Ctrl+Alt+Delete
) > Startup Tab.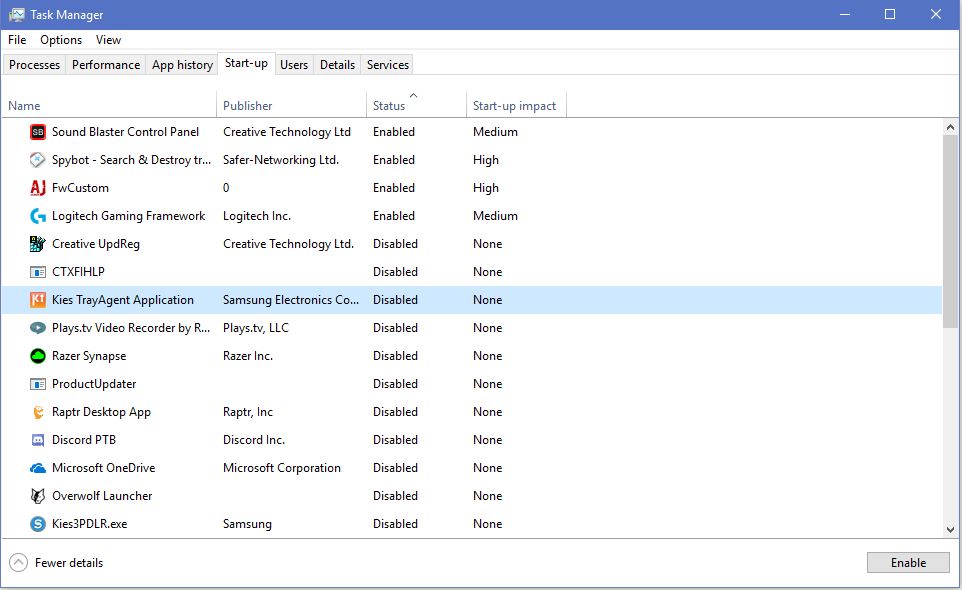 As you can see the Kies application for my mobile phone is disabled. As it allows the program to sit in my tray doing nothing but waiting for me to use it, and in reality I only use it once month, I see no use for it using resources just to save a tiny amount of program startup time, when I use it once in a blue moon.
Your first point of call it to visit here and disable anything you don't really need or don't use a lot, be advised that this doesn't count for Antivirus or things like my Logitech Software for example which controls the custom settings for my mouse, so think carefully before you disable.
(4) Services
You can visit both the Task Manager's tab
SERVICES
and, via Cortana by entering
Services.msi,
the Service Desktop App
.
This is the Service Desktop app and I have shown an example of how to Disable a service:


Anything set to Manual is started/loaded upon request from the program requiring that particular service, so this is also worth taking into consideration too.
Always google a service you are not sure of though!​
It's worth visiting both the Service Tab on the Task Manager and The Service Desktop App.