Active Member
City Planner (S3)
Completed City Plan
Murkwater Grove on Nexus

Original First Post:
Out of the Murk, out of the water, up into the Trees!
There must be something in the waters, because those are damn big trees!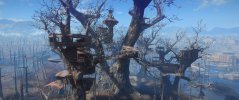 Giving this concept a go, not sure if it will work/function that well, but it will be eye candy and fun to wander about.
Last edited: